Nashville Flea Market Information and Rules
Booth Cancellation
Absolutely no refunds will be issued for cancellations made after Friday 4:30 p.m. one week prior to the market. Booths may only be cancelled by speaking directly with the office. No "answering machine" cancellations accepted.
If booth payment is not received five days from the date the reservation is made, booth will be cancelled automatically.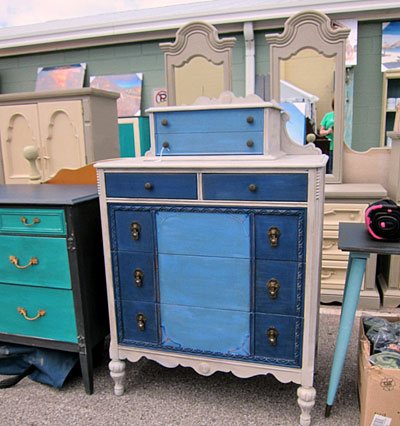 Photo Credit: Petticoat Junktion
Booth Prices
Prices range between $35 and $150 per weekend depending on location.
All booths must have a paid receipt at all times.
Booth sizes are 9 x 10 (Building); 10 x 10 (Shed); 10 x 18 (Parking lot)
All merchandise chairs, carpets, tables etc…must be inside the lines(red dots) of the booth space.
No tents allowed in buildings.
Rollover
Permanent Dealers may rollover one time per year, otherwise you must pay for your space during the month not present or forfeit your space. A full one–week notice is required for rollover. No refund or rollover will be issued if notice is not given before 4:30 p.m. Friday, one week prior to the Market. You must speak to someone directly to give notice of rollover. No "answering machine" rollovers accepted.
Refunds
No cash refunds are given through the Flea Market Office. We will allow you a credit to be used at future markets provided that you gave one week cancellation notice . No shows and late arrivals will forfeit space and rent paid. Booths must be occupied by 7:30 am Saturday morning. If you arrive after 7:30 am, you must report to the Flea Market Office to see if your space has been rented to another Dealer.
Subletting
Subletting, loaning, renting, or selling of your booth space to someone else is strictly prohibited. All rights to the booth space belongs to Nashville Flea Market Management. Booths can be reassigned, when necessary, for the good of the Market.
Prohibited Items
No food, drink, or concession items can be sold at this Market without management approval
Illegal
Racist or culturally insensitive items
Pornographic or explicit sexual materials
Stolen or counterfeit items
Outdated or recalled medication
Recalled food or merchandise
Drug paraphernalia
Nursery stock and live plants must meet special requirements and have current Plant Certification License prior to setting up. Dealers understand that they may not sell any item, which violates federal, state, or local laws. Fairgrounds management reserves the right at any time to prohibit certain additional items from being sold, traded or given away and to deny admission to any vendor that do not support The Fairgrounds mission or vision. Dealer agrees to indemnify, defend, and hold harmless Nashville Flea Market, Nashville Metropolitan Government, their employees, officers, agents, from any and all claims for damage arising out of actions of Dealer directly, or indirectly.
Selling of Animals Prohibited
Nashville Flea Market does not allow the sale of any type of animals on the property.
Sale of Concession Items Prohibited
No concession items may be sold at the Flea Market. The term "concession items" includes, without limitation, any food or beverage, including water prepared or unprepared, that is capable of being consumed on the premises or any food or beverage that, in the opinion of the Flea Market Manager, constitutes a concession item. "Concessions items" do not include whole pies and cakes greater than 8 inches in diameter, prepackaged candy, cookies, chips, fudge, and nuts sold in amounts not less than (3) pounds. All food items sold must be approved by the Flea Market Manager prior to set up by the Dealer. The sale of any food or drink that is a concession item, or any food or drink that is sold without permission of the Flea Market Manager is strictly prohibited.
Health Permit
Any dealer who seeks to sell prepared food (food prepared off the Flea Market premises) must submit a list to the Flea Market Manager for approval of the food items the dealer wishes to sell. The dealer must also provide to the Flea Market Manager a current permit to sell these prepared food items issued by the Tennessee Department of Agriculture. The dealer must display the permit issued by the Tennessee Department of Agriculture in an open and conspicuous location in and around dealer's booth so that it is plainly visible to the public. The dealer does not have to provide such a permit if the dealer is only selling pre–packaged food that is not potentially hazardous, and such food is packaged from an approved, licensed establishment. Homemade and or repackaged foods are strictly prohibited, including but not limited to, pies, cakes, and fudge. Anyone preparing food on the premises must have and display a current permit the Tennessee Department of Health. Permits from other states are not accepted. No dealer may sell any prepared food in contradiction of this section. The booth privileges granted to any dealer who fails to comply with this section may be terminated immediately in the sole and absolute discretion of the Flea Market Manager or the TSF Fair Director.
No Partnership with Nashville Flea Market
It is specifically agreed and understood that nothing in the agreement between the Nashville Flea Market and Dealer shall in any way create a partnership or joint venture between the parties.
Dealers Property and Liability
The Market is not responsible for any Dealer's property, liability arising out of negligent acts on behalf of Dealer or their employees, or for any injuries sustained by Dealers or their employees. Dealers should provide adequate insurance to cover property and liability. Dealer agrees to indemnify, defend, and hold harmless Nashville Flea Market, Nashville Metropolitan Government, their employees, officers, and agents from any and all claims for damage arising out of, actions of Dealer directly or indirectly.
Soliciting
No solicitation is allowed on the grounds of Nashville Flea Market without written authorization from management and the Fair Board. A brochure table is provided in the Flea Market Office. See Manager for permission.
Security
For your safety and security, we provide Metro Police Officers and Security Guards. They are here to enforce rules, regulations, and the law. Nashville Flea Market, Security, nor Police assume any responsibility for Dealer's property. In the event of an emergency, First Aid and Security are located in the Flea Market, next to the Lot 4. Phone number 615–862–5016, 615–862–5018 or 615–394–6653.
Sales Tax
All Dealers are required to have either a Tennessee Sales Tax Number or a Certificate of Registration. Certificates of registration can be purchased in the office for $5.00 monthly (limit of 3 per year), $15.00 quarterly (limit of 2 per year), or $45.00 annually. You must display your certificate in your booth at all times.
License Fees
If you do not have a valid Davidson County and/or City Business License, we will provide you with one for $4.00. This is a requirement to sell at our Market.
Set Up
Dealers can begin setting up at 9am on Thursday. All Dealers must have gate passes to enter the Market area. Dealers are required to enter through 5 Points Gate #6, see map. Dealer Parking is located in Lot 2, and Five Points. Please see your map for directions. Dealers must unload merchandise and immediately move to the Dealer Parking Area. Please do not set up your booth as you unload. There are many Dealer's setting up at the same time and everyone needs access to the loading and unloading areas. Move your vehicle as soon as you get unloaded. No vehicles are allowed in the buildings. All Dealers must stay within boundaries of the assigned booth. Please do not place merchandise in the aisles. Dealers must have their cars and trucks moved to Dealer Parking by 9 am Friday, Saturday, and Sunday. Dealer Passes must be displayed in the front window at all times. For fire and safety reasons, vehicles are not allowed to park in the fire lanes, in doorways, or places not designated as parking or loading zones. Please understand our request and know that violators will be towed at owner's expense. You must be set up by 7:30 am Saturday or your space will be forfeited. No vehicles are allowed to move in the market area between the hours of 9am–5pm on Friday, Saturday and 9am–4pm on Sunday. We will allow Dealers to set up on Friday but in order to enter the market area they must have a dealer pass, or you will be sent to the office prior to entering the market area.
Fairgrounds Property
No signs, banners, nails, screws, or advertising material may be placed on the buildings, walls, and doors. This includes taping anything to the doors. Do not hang or attach anything to the gutters and downspouts of the buildings or sheds. We allow free standing tents and canopies outside provided that they have a flame spread certificate NFPA 701, inspected, and approved by the Fire Marshall. Your certificate must be sent to the Flea Market office one week prior to the Market.
Pick Up Points
For the safety of our customers and Dealers, the Market area will be closed to all vehicles during the following hours:
Friday: 9 am until 4:00 pm
Saturday: 9 am until 5:00 pm
Sunday: 9 am until 4:00 pm
During the hours the market area is closed to vehicles pick up points have been established at the edge of the Market at various points. See your Dealer map. Customers must have pick up passes to access the pick up points. If you sell large items we will strive to get you close to a pick up point upon your request. It is your job to provide the customer with merchandise pick up pass and get the item to the pick up point. We provide these for you in the office, once the pick up is made we will retrieve the pass.
Electricity
Electricity is provided in all buildings, Shed 2, 3, 4, and 5. An extension cord may be necessary to access the plugs and plugs are shared between the booths. No cords may cross walkways. $5.00 for one outlet or $10 for two or more.
Equipment Rental
Tables are available for rent in 6 and 8 foot lengths. The rental fee is $8.00 per table per weekend, chairs $5. Payments for equipment rental must be made at the Flea Market Office. Equipment rental locations cannot accept payment for equipment. Please retain the yellow copy of your receipt to pick up equipment as this receipt cannot be reprinted or replaced if it is lost. You will have to pick up your equipment at the Equipment Building located at the rear of the Agriculture building:
Equipment Rental Location
Equipment Building (Maintenance Shop)
Equipment Rental Hours
Thursday, 9am - 8pm
Friday, 8am - 8pm
Saturday, 7am - 8am
Gifts
Flea Market staff and maintenance employees are employees of the Board of Fair Commissioners. As government employees we are not allowed to accept gifts. Please do not offer gifts of gratitude or affection.
Smoking
All buildings are "NO SMOKING" by city ordinance. No open flames allowed in building by order of Fire Marshal. Vapor cigarettes are also not allowed.
Pets
No pets are allowed on the grounds unless they are confined and leashed. Pets used for "Medical Aid" are allowed inside the buildings. Pet owners are expected to clean up after their pets.
Permanent Space Assignment Procedure
Permanent spaces can be assigned following Dealer's fulfillment of one year of rental on a space available basis. A waiting list is available for each building, shed and lot. Dealer names will be placed on the waiting list upon request following one year of rental. While we want to get Dealers in the space of choice, this is most often impossible. When a space comes open, we will contact the first person on the list based on seniority. If the Dealer refuses the space then he/she is moved to the bottom of the list. Permanent Dealers must pay for their space each month (in advance) whether or not in attendance with the exception of the one month "rollover".
Break Down
Our Market remains open until 6 pm on Saturday and 4 pm on Sunday. No vehicles are allowed in the Market area for the purpose of loading out prior to the close time. Exceptions are made for inclement weather and emergencies. Clearance must be given by Police personnel or the Market Manager prior to moving vehicle early. When loading out, please have all merchandise packed and ready to load before moving your vehicle from the Dealer parking area. Please do not block the doors and roadways. All Dealers are responsible for leaving their space neat, with trash together in bags. The Fairgrounds property should be vacated no later than 11:30pm Sunday evening. We do not allow packing up prior to 4pm on Sunday, no tipped workers are allowed to assist vendors until 4pm.
Americans with Disabilities Act
People with disabilities represent a significant portion of the population and are equally reflected in the number of guests attending the Tennessee State Fairgrounds. Ensuring equal participation by all guests is important and beneficial to you, your company, and The Fairgrounds. The Americans with Disabilities Act (ADA) mandates equal treatment of persons with disabilities. The ADA defines an "individual with a disability" as a person who has physical or mental impairment that substantially limits one or more, major life activities, who has a record of such impairment, or who is regarded as having such impairment. Every effort should be made to give guests with disabilities the opportunity to participate and enjoy all aspects of the Flea Market. When the safety of guests or employees will be placed in jeopardy, then the admission may be refused.