Fairgrounds Nashville Improvement Project Update: The Week in Review: March 11-15
March 17, 2019
Construction Update
Civil Construction has begun working on the Shed 2 building pad.
Installation of the sanitary line from Nolensville Rd. continued.
The Expo 2 concrete stem wall installation continued.
Expo 3 roofing installation continued and building skin installation began.
Grading of Expo 1 was completed.
Footings for interior columns were placed in Expo building 2.
The electrical contractor started rough ins at porch north side of Expo building 1.
Weekend Events
Friday, March 15: One Generation Away, 9:30-11:30 a.m, Mobile food pantry. 15,000-25,000 lbs. of food will be dropped off in a parking lot, where volunteers will be waiting to sort and distribute it all to neighbors in need. One Generation Away prides itself on providing fresh and healthy foods, as well as things that are easily prepared and cooked. No questions are asked nor are there requirements for people who can receive food. Volunteers arrive at 8:00 AM to sort, bag, and organize food. Distribution starts at approximately 9:30 a.m. Food is distributed on a first come, first served basis. Rain or Shine.
Saturday, March 16-Monday, March 18: Dixie Children's Show. Private event for whole sale buyers and sales reps for children's clothing line. (Exhibitors Building.)
News Clips
Images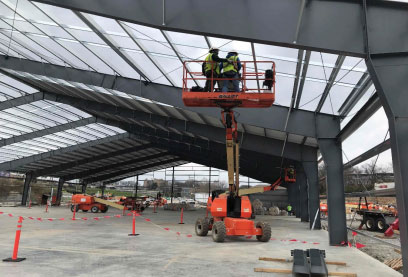 Steel erection on Expo Building 2 began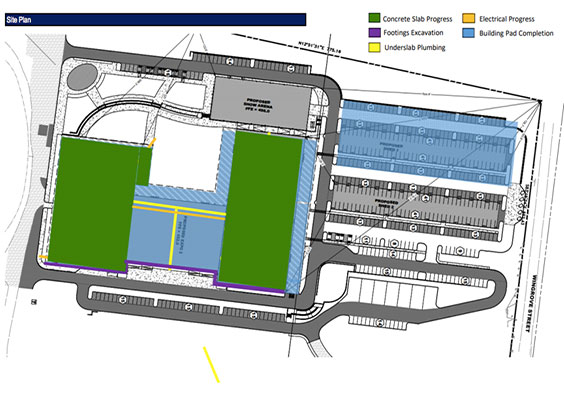 Rendering showing color-coded site progress:
Green: concrete slab progress
Purple: footings excavation
Yellow: underslab plumbing
Gold: electrical progress
Blue: building pad completion