Fairgrounds Nashville Improvement Project Update: The Week in Review: April 1-5
April 8, 2019
Construction Update
In Expo 3, roof panels, wall panels and insulation are complete.
Construction of concrete masonry unit (CMU) walls at the overhead doors are underway.
Installation of the covered porch framing and roof panels for the porch have begun.
CMU construction at northwest restrooms and family restrooms is ongoing.
In Expo 2, excavation for the loading dock has wrapped up and floor grade excavation is underway.
Steel frame erection began in the last week in Expo 2 and began in Expo 1, the biggest of the three expo halls.
The stem wall and loading dock formwork and steel reinforcing is ongoing in Expo 2.
Slab prep for Expo 3's covered porch is underway.
Site work is 90 percent complete, site utility work is ongoing, and construction of the pads for the Show Arena and Sheds 2 and 2 have started.
News Clips
Images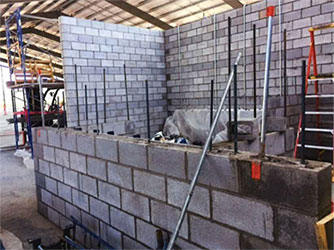 Restrooms in Expo 3 under construction.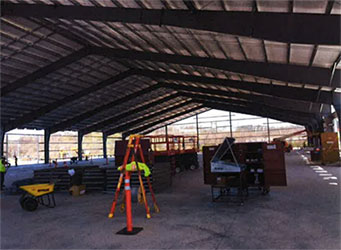 Interior of Expo 3 - the biggest of the three buildings - showing completed roof.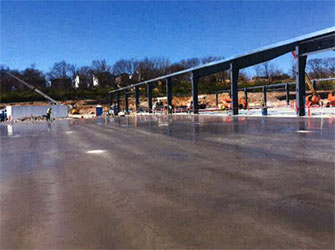 Expo 2 concrete slab.